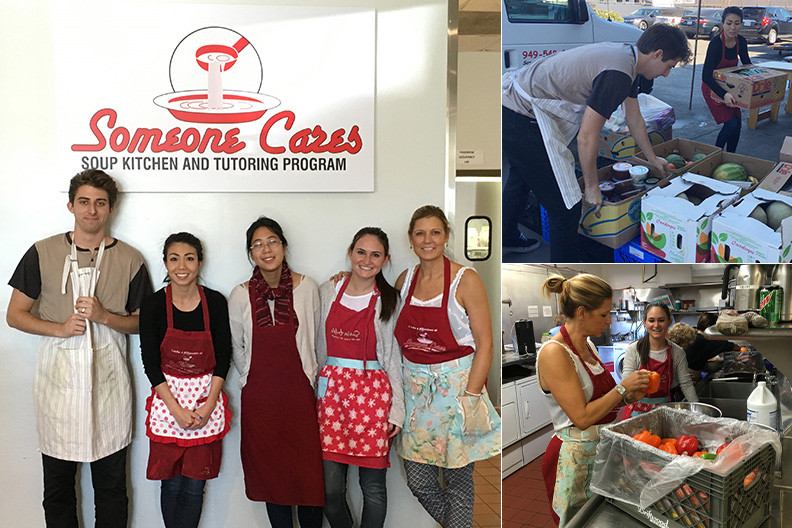 Adzedia Cares
The holiday season is giving season. Last week, the Adzedia team spent the morning with Someone Cares Soup Kitchen, volunteering our time to prepare and cook meals for more than 300 people.
Someone Cares Soup Kitchen, located in Costa Mesa, is a non-profit that provides nutritional meals to the homeless, unemployed, elderly, or otherwise underprivileged individuals in our community. They provide meals 7 days a week, serving lunch Monday through Friday and breakfast on Saturday and Sunday mornings.
Our morning began with a tour of the Soup Kitchen, where we met the many long-term volunteers that keep the Soup Kitchen running smoothly. These individuals donate their time every day to this organization. And while there were varying stories about how each volunteer ended up at the Soup Kitchen, every volunteer was there for the same reason – to make a positive difference in someone's life.
At 9am, vans filled with groceries arrived and our team began unloading. Every day, Trader Joe's, Whole Foods, Sprouts, Sprinkles Cupcakes, and many other local grocery stores and bakeries donate their day old and leftover food to the Soup Kitchen. Without them, it would not be possible to feed so many people.
Once all the groceries were unloaded and sorted, it was time to prepare lunch. Lunch included three courses; an appetizer, a main course, and dessert. We sliced and diced an array of fruit for fruit salad, chopped vegetables for sides and salads, and tenderized meat for the main course – broccoli and beef. The long-term volunteers were not only fantastic chefs, they were awesome teachers. They taught our team all kinds of culinary tips and tricks to make the food even more delicious.
Before we knew it, it was time to go and let the next group of volunteers get ready to serve the freshly cooked meals. It was heartwarming to see how many people dedicate their time to such a worthy cause. They rarely have a shortage of volunteers, with new and eager individuals volunteering every day. It was a morning we will never forget, and we can't wait to go back again.
If you or someone you know are interested in volunteering at Someone Cares Soup Kitchen, call (949) 548-8861